Entrepreneurs' Day: Harry Gordon Selfridge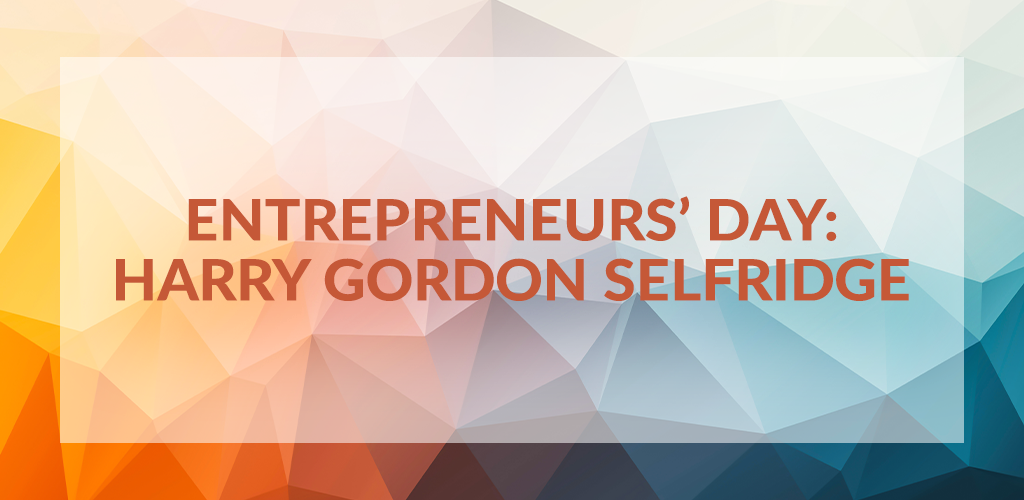 There are only 28 shopping days left until Christmas! This now popular motto used to encourage consumers to buy was first coined by one of America's most famous entrepreneurs, Harry Gordon Selfridge. The phrase "the customer is always right" is also frequently associated with Selfridge, who is best known for launching his self-named department store in 1909, which revolutionized the shopping experience around the world.
Selfridge was born in Wisconsin but moved to Michigan with his family when he was just a baby. His father, Robert, abandoned the family after the American Civil War, and his two brothers died shortly thereafter. Selfridge's mother, Lois, struggled to financially support her only remaining child which led to Selfridge taking his first job, a paper route, at the age of 10. Two years later, he launched a boys' monthly magazine with a friend, and earned income from the advertising within the magazine. That was his first taste of the entrepreneurs' world.
After working various jobs in retail and climbing the corporate ladder at the department store Marshall Field and Company, Selfridge had amassed enough wealth to retire in his mid-forties. During his (brief) retirement, Selfridge took a vacation to London, England with his wife. While there, he noticed the country had a lack of department stores that could rival the ones found in America or Paris. Recognizing a gap in the market, Selfridge came out of retirement and invested a significant amount of his fortune in the creation of his very own department store, Selfridges.
Unsatisfied with the idea of simply matching what other department stores did, Selfridge became a pioneer in how entrepreneurs and businesses at the time operated. He was the first to propose the concept of shopping for pleasure instead of necessity. In order to enhance the customer experience and keep shoppers in his store as long as possible, he designed the layout so customers could easily access and interact with products. He included modestly-priced restaurants, a library, reading and writing rooms, a first aid room, a silent room, and "reception rooms" for customers from different parts of the world in the building layout. Selfridges also became world-famous for their window displays. Finally, he insisted that his staff members sell by assisting customers, rather than aggressively pushing them to buy a product.
Selfridge remained chairman of his store until 1941 when he retired permanently. He died in 1947, at the age of 89.
Entrepreneurs' Quote
"There are no hard times for good ideas."