Entrepreneurs' Day: Reed Hastings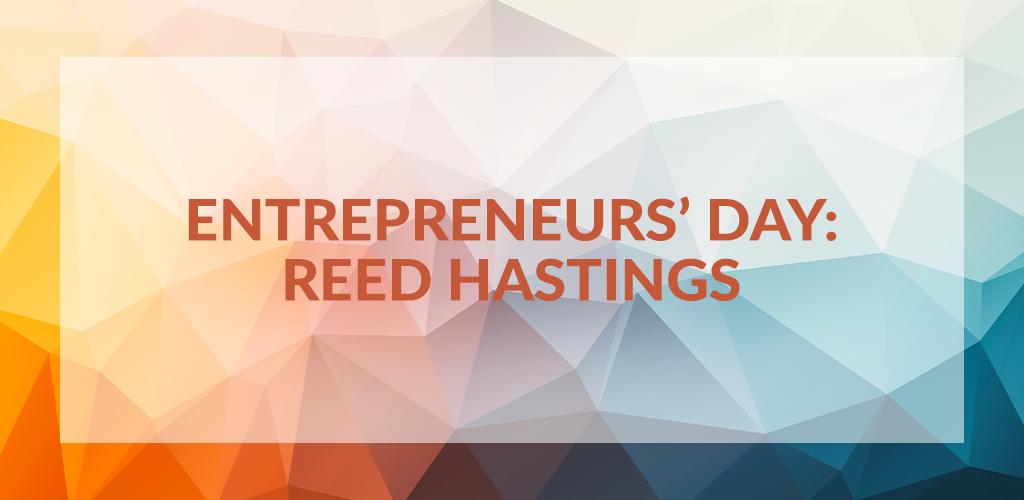 Frustrated with a $40 late fee on a movie rental, Reed Hastings was inspired to create a new way to rent and watch movies. This inspiration later turned into the video giant we all know today; Netflix.
Hastings was born and raised in Boston, Massachusetts. After high school he began officer training in the Marine Corps. However, he instead joined the Peace Corps and travelled to Swaziland to teach high school math. It was this time in his life that he credits for instilling in him an entrepreneurs' spirit. According to Hastings, "once you have hitchhiked across Africa with ten bucks in your pocket, starting a business doesn't seem too intimidating."
When he returned to the United States, he enrolled in Stanford University where he graduated with a master's degree in computer science. In 1991, Hastings launched his first company called Pure Software, which aimed to troubleshoot software. Initially, Hastings found the rapid growth of his business to be overwhelming because he lacked managerial experience. However, when he asked his board to replace him as CEO, they refused, which encouraged him to learn how to be a businessman.
After a few different mergers and acquisitions, Hastings left Pure Software in order to co-found Netflix. The company was initially developed as a subscription service for subscribers to rent newly-popular DVDs. A decade later, inspired by the success of YouTube, Netflix developed their video streaming service which remains popular today. Hastings is also known for creating a unique corporate culture that highly values responsibility from and freedom for employees.
Today, Hastings is still the CEO of Netflix as well as a philanthropist with a particular interest in education.
Entrepreneurs' Quote
"Most entrepreneurial ideas will sound crazy, stupid and uneconomic, and then they'll turn out to be right."