Entrepreneurs' Day: Sam Walton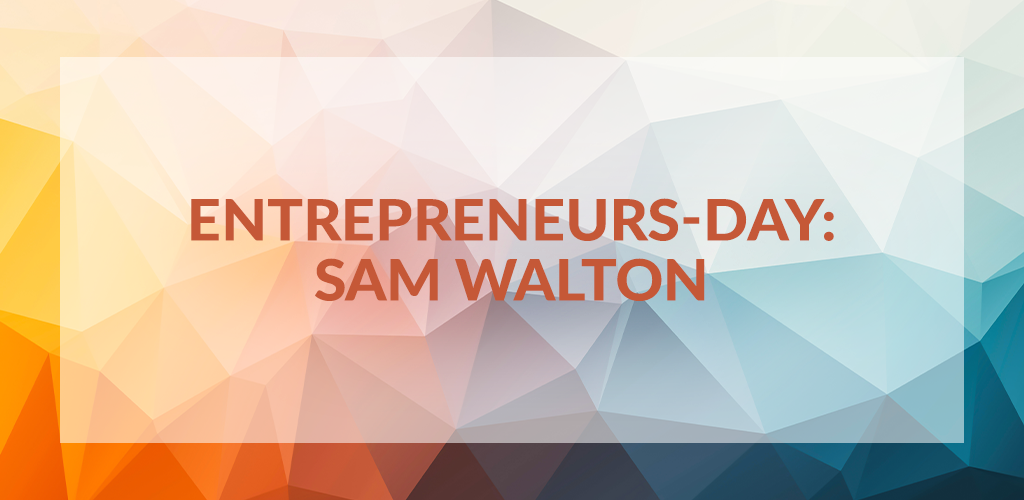 For six years of his life, Sam Walton was the richest man in the world. That was all thanks to his creation of one of the largest chain retailers the world has ever known: Wal-Mart.
Walton was born in 1918 and grew up during the Great Depression. He learned about business at a young age, using his skills to help support his family. As a child, he took on odd chores around the towns he grew up in, including milking cows and delivering the extra bottles around town, delivering newspapers, and selling magazine subscriptions. After high school, Walton attended college as a way to support his family further. He graduated in 1940 with a degree in economics. Walton knew he wanted to join the ranks of retail entrepreneurs and, three days after his graduation, he began working at J.C. Penney as a management trainee. In 1942, he left the company in anticipation of being inducted into military service during World War II.
After the war, Walton bought and began managing his first variety store at the age of 26. Thanks to his innovative ideas, sales of the store grew from $80,000 a year to $225,000 a year. Retail concepts he pioneered focused on offering products that were priced equal to or better than what people could purchase in big cities hours away to encourage them to shop at home. His success, however, was noticed by the landlord of his store who wanted to reclaim it for his own son, and refused to renew Walton's lease. Walton then purchased another store and, as its success grew, began buying up more and more.
It wasn't until 1962 that Walton opened up his very first true Wal-Mart, called Wal-Mart Discount City and became one of the world's most recognized entrepreneurs. Instead of locating his stores in big cities, he focused on bringing his business to small towns and cornering unique markets that other big retailers neglected. The strategy was immensely successful. By 1977, 190 Wal-Marts were in operation, a number that grew to 800 stores by 1985. Walton also launched a second retail chain, called Sam's Club.
Today, Wal-Mart operates in dozens of countries around the world with more than 11,000 stores and 2.2 million associates. Walton passed away in 1992 and left ownership of the franchise to his wife and their children.
Entrepreneurs' Quote
"High expectations are the key to everything."