What Are the Parts of a Funnel in eCommerce Sales?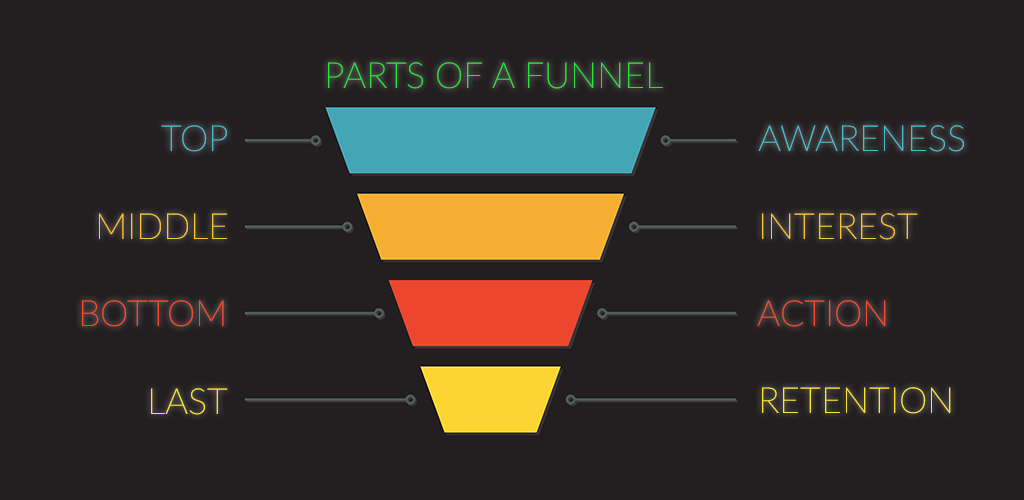 Online businesses must convert digital window-shoppers into paying customers in order to be successful. One of the best ways to create these conversions is to develop an effective "sales funnel." Sales funnels are marketing tactics that guide a consumer through every stage of purchasing a product, starting with awareness of a product and brand, and ending with taking an action to buy. In general, there are three parts of a funnel, and one "silent" phase that entrepreneurs should be aware of:
Top of the funnel
Middle of the funnel
Bottom of the funnel
Retention
Top of the Funnel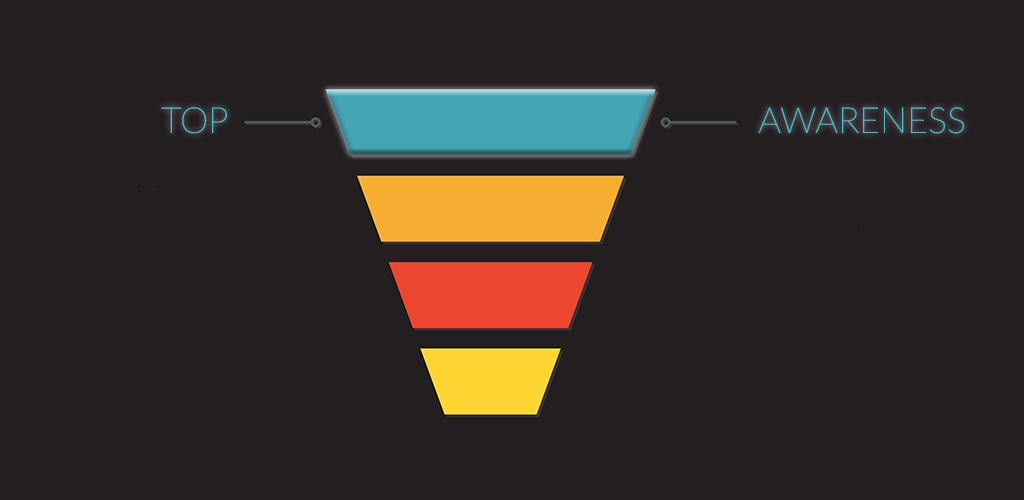 Picture a funnel in your mind: one end has a wider mouth, before it gradually narrows into a spout. In this analogy, the top of sales funnels is the wide mouth. At this stage of the process, ecommerce stores are casting their nets far and wide to accomplish one main goal: awareness. In order to convert consumers to paying customers, those consumers must become aware of a brand and its products. The top of the funnel should be designed to be enticing enough for customers to enter and, hopefully, proceed with the rest of the phases. This stage is characterized by a heavy focus on marketing, advertising, and networking. There are a few especially effective types of content that businesses can use to encourage customers to move into the next parts of a funnel:
Blog: Running a blog is hugely important to most online businesses as they're just starting out. One reason for that importance is because a blog helps with SEO, which stands for search engine optimization. In essence, the more (quality) content you have on your website, the higher you are likely to rank in search engine results.
Social Media: Social media is another great way to get consumers from the top to other parts of a funnel. While many entrepreneurs think that social media's power lies in the opportunity to go viral, the real effectiveness of these platforms comes from the features they offer. Social media allows a company to open up channels of two-way interaction with potential customers, helps develop a brand personality, and can be a great boon to increasing awareness thanks to advertising and sponsored post features.
Traditional Media: Depending on who your target audience is, social media might not be the best place to reach them. If that's the case, concentrate your efforts elsewhere. Traditional media, which includes print and broadcast advertising, is an excellent option to consider. You can target specific demographics and geographic regions to keenly appeal to specific audiences.
Parts of a Funnel: The Middle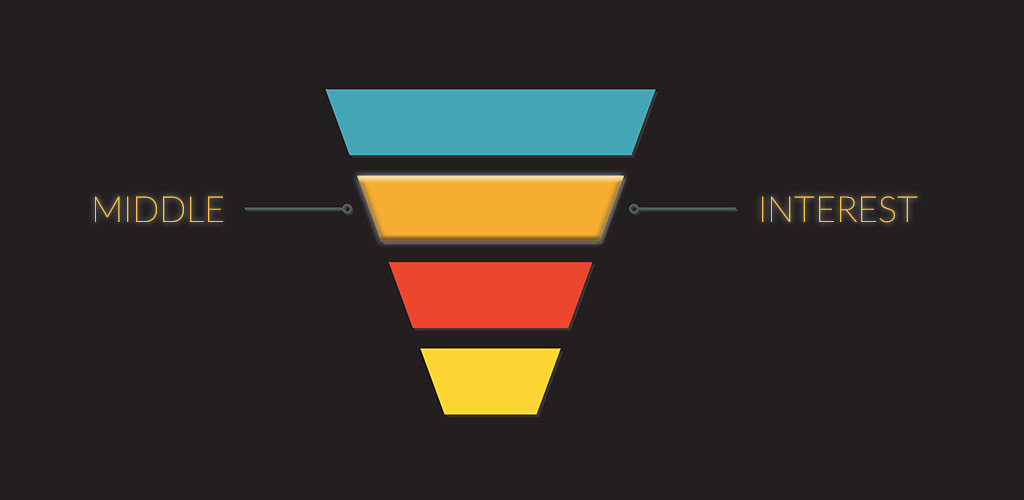 Once you successfully make the audience aware of your brand, they move deeper into the funnel to reach the middle. The focus of this phase is on generating interest in your products. After all, just becoming aware of your brand doesn't necessarily mean a person will want to buy from you. Once you guide customers to this stage of the buying process, it becomes especially important to create a relationship with them that provides value. Some of the content that is especially useful in building customer relationships includes:
Blog: A blog is especially valuable in the first and second parts of a funnel. At the top of the funnel, the blog helps a website to rank in search engine results so an increased number of consumers can find it. But, once you reach the interest phase, a blog is a great way to showcase your brand and your products in a way that shows customers how you can benefit them. In addition to proving benefit, a blog can also help build a brand personality, something that is especially important in today's retail landscape. Many consumers want to shop with businesses that share their values, so the more you make your brand's values and beliefs known, the more likely you are to capture the hearts of your audience.
Email Marketing: If you can get a consumer to sign up for your email list then congratulations: you already have an interested customer. But, now, you have to keep their interest. Great email marketing displays your brand's personality while also appealing to the customers' wants. Highlight your products, share updates about your brand, and compliment your content with sales, deals, and anything else that might convert to sales.
The Bottom of the Funnel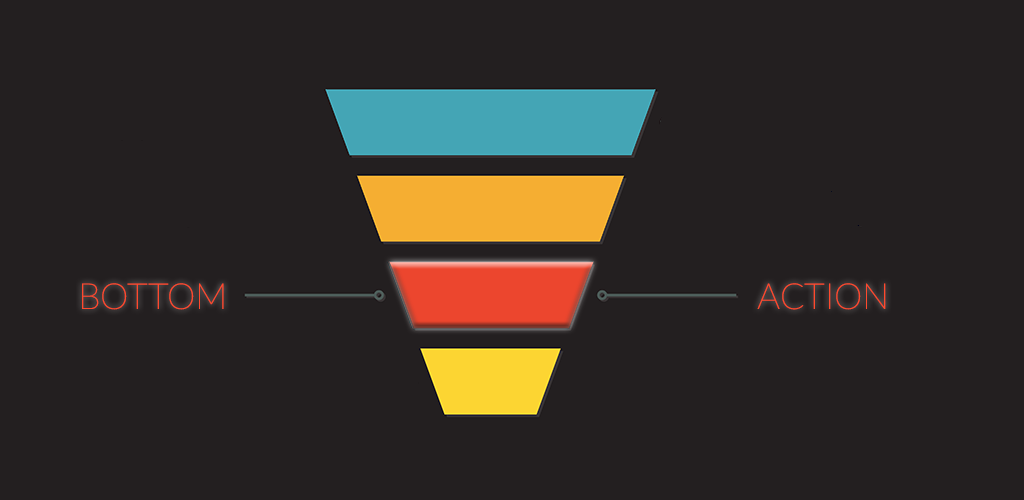 If you successfully help your audience navigate from the top of the funnel (by making them aware of your brand) and through the middle (by interesting them in your brand and products), then they're finally at the bottom, which is also known as the decision/action phase. At this stage of the sale process, your customer will decide whether or not to ultimately make a purchase. Your main goal now is to help them make the decision in your favour (ie. to make the purchase). Here are a few of the best types of content that will help you seal the deal:
Call-to-Action: One of the best ways to make a sale is to ask for it. You can do this through a call-to-action, which is a device used to prompt a response. On some websites, for example, once a customer adds an item to their cart, they receive a "buy now" prompt. This helps expedite them through the purchasing process and encourages an immediate response that results in a sale.
Videos and Photos: eCommerce businesses have a distinct disadvantage over brick-and-mortar stores. Online shoppers simply can't see the product in person, which may cause some hesitation over making the decision to buy. One of the best ways to overcome this hesitation is to add high quality pictures and videos to your product pages that highlight the item from a variety of angles at a range of magnification. This allows customers to get a better idea of quality and craftsmanship so they can feel confident that what they're buying will be worth their money.
Reviews: Reviews are another great thing to add to your website to enhance customer trust. Consumers are aware that photos and videos have often been edited and can hide flaws in a product. However, reviews from verified buyers are more likely to be a reliable source of product information, which increases the confidence of future buyers.
Return Policies: Finally, having customer-focused return policies easily accessible on your website is a great decision-making driver. For a customer to know that they aren't stuck and out of luck with a product, if it isn't all they expected it to be, will help put them at ease that they can do business with you with many benefits and few risks.
After the Funnel: Retention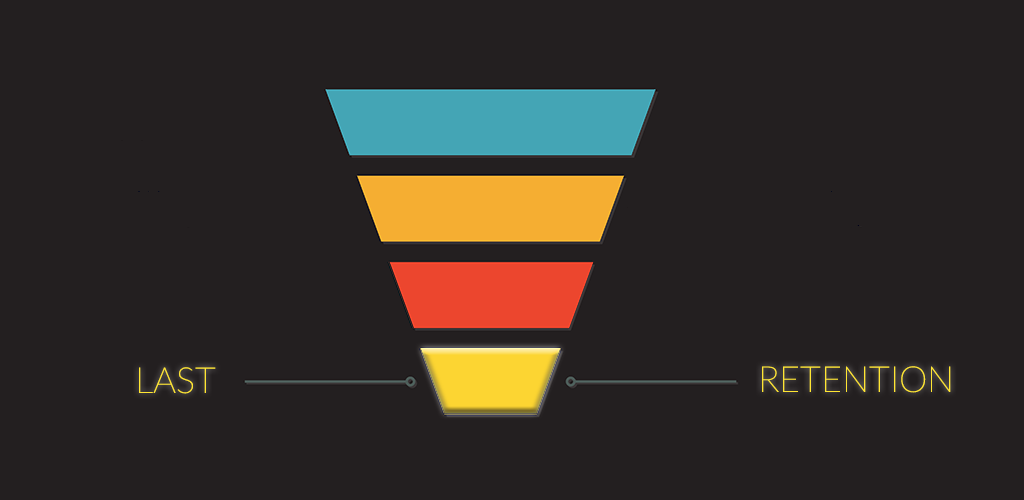 Just because you've succeeded in guiding a customer from the top to the bottom of the sales funnel doesn't mean your relationship with them has come to an end. In fact, after they make a purchase, it becomes more important than ever to guide them into the "silent" phase of the funnel, which is the retention phase. It's estimated to cost five times more to make a new customer than it is to retain an existing one. So, once you've successfully made a sale, keep that momentum going by continuing to nurture your customer relationships. A few ways to do that include:
Send Them a Thank You: Show your customers that you're grateful for their business by thanking them. The most common way to do this is through email, but you can also include a note in shipped packages. Thank yous are even more effective when they come with some sort of deal (for example, 10 percent off your next order!), encouraging them to buy more.
Introduce a Loyalty Program: Loyalty programs are so-named because they, well, make customers loyal to a brand. By rewarding customers for every purchase (collecting points, earning discounts, etc.), you help encourage them to buy even more.
Survey Them: Approaching customers for their feedback is an excellent way to show them that you care about their thoughts and opinions. It also allows them to easily share their ideas with you, so they don't have to scour your website for the opportunity to do so.
---
Understanding the parts of a funnel is a great way to develop your sales process and increase your conversions.
Visit Shopivo and stay tuned for exciting news and updates! Sign up for our emails and stay up-to-date on new developments and features.